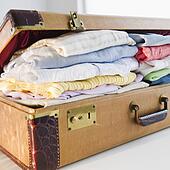 When I travel, one of my favorite things to do is to pack light. I have some great reasoning behind it. First off, I don't want to carry a ton of stuff around with me, even if I'm only going from an airport to a cruise ship. The more I pack means the more I have to unpack, and then pack again when going back home. Then that means I have more to wash when I finally get back home.
Something I like to do, which some people would have a very difficult time doing it, is making a clothing schedule. I made one of these (sort of) when I went to Alaska except it wasn't as detailed as my clothing schedules are for shorter trips. The main reason I make these schedules is so that I can think about exactly what I need to just "get by" on the trip.
An example of when I used one of my clothing schedules was when I went on a cruise a few summers ago. The cruise itself was pretty short. I think it might have been 4 nights. Why in the world do I need to take 10 different daytime outfits, and then about 5 or 6 different nighttime dresses?!?!?! I needed swimsuits, coverups, and then my nighttime summer dresses. I saved so much space creating my little schedule to help me figure out how much I needed. Yes, sometimes people laugh at me, but it keeps me organized.
Another thing to do is to think about the shoes that you are taking. Try to coordinate outfits to only take a few pairs of shoes. I realize that on longer trips more shoes might be necessary, but there is no need to take 2 pairs of tennis shoes, 3 pairs of heels, etc. Take 1 pair of heals, 2 pairs of flip flops, and if you must a pair of tennis shoes.
One last thing I love to use to help me stay organized which also helps me pack light, are these
packing cubes
from
The Container Store
. They are awesome!!! Basically you can have several different ones for your small undergarments, socks, and swimsuits. Then you can use one of
these
to pack all of your shirts and pants. They are comletely and totally necessary on all of my trips now. They compress all of your clothes and really just save space. When you are packing light, creating as much space as possible is part of packing without overpacking.
So when you begin to pack for a trip, hopefully a few of these tips will help you.
Do you have any packing tips?